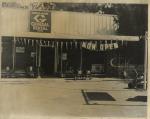 General Rental of Milton began as a franchisee of nation-wide General Rental Center in 1979. Charles Wiscaver opened the business after more than 20 years in the automotive/marine upholstery business.
Within 5 years we outgrew the location seen here and we moved into our current location on Glover lane in 1984. Our long steady growth is a result of dedication to our customers and supplying quality equipment to fulfill their needs.
We continue to invest in equipment so that we keep our inventory current and in good working order. We are continually looking for new things to add to our inventory.
Our goal is and always has been to provide a quality piece of equipment to make your job easier and successful.